Amateur Radio Products

Electronic Development Products


"Mini" Iambic CW Paddles by K9LU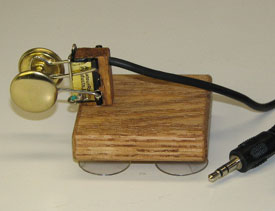 BullDog paddles are the right choice when you need a lightweight Iambic key for your portable operations. They are also the perfect companion to the XT-4 memory keyer!

Despite their small size, they rival the feel of full size paddles costing many times more. BullDog paddles feature adjustable spacing and tension. No tools needed!

These keys are constructed with a solid oak base with an oiled finish, and brass accent trim. Suction cups hold them in place. A pre-wired cable with a 3.5mm plug is included.

The BD5 is a stand alone paddle with a 3' cable. Use it with your current keyer or transceiver with a built in keyer. The BD5 is only $29.95.


---
Voice Keyer | CW Keyer | Sound Card Interface | Beacon | Band Decoder | Antenna Selector | USB Interfaces
LED Array Kits | Voltage Regulator Kits | Mini Paddles | View Cart | Support | Contact | About Us | Home
---
©2009-2012 Unified Microsystems. All Rights Reserved.
Web Design and Hosting by QTH.com