Amateur Radio Products

Electronic Development Products

SCI-6 PC Sound Card Interface Kit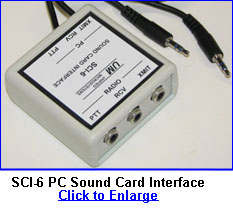 Looking for an affordable PC sound card interface to get you on PSK31, RTTY, WSJT, Echolink and other exciting digital modes? The SCI-6 interface is your ticket to these cutting edge developments.

The SCI-6 design incorporates transformer isolation on both transmit and receive audio. Control the transceiver PTT with the built in optically isolated interface circuit. The SCI-6 requires no external power source.

The kit contains a high quality double sided circuit board with solder mask and component legends for easy assembly. Unlike other low cost kits, a machined case is included.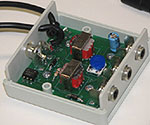 The cables to the sound card are included. You supply the cables to your particular radio. RCA phono connectors make it easy for you to customize the remainder of the connections to your radio.

The SCI-6 also makes a great club project. Give your members kit building experience as well as an introduction to new modes!

Software for many of the digital modes can be downloaded at no cost on the Internet.


SCI-6 Specifications

Size: approximately 2.5" X 2.5" X 1"
Power requirements: None
Signal Isolation:
TX audio: transformer
RX audio: transformer
PTT: optical



SCI-6 Documentation:

SCI-6 User Manual (PDF)
SCI-6 Schematic (PDF)
FAQ (PDF)
SCI-6 Cable Pinouts (PDF)
Order your SCI-6 Sound Card Interface Kit here:
---
Voice Keyer | CW Keyer | Sound Card Interface | Beacon | Band Decoder | Antenna Selector | USB Interfaces
LED Array Kits | Voltage Regulator Kits | Mini Paddles | View Cart | Support | Contact | About Us | Home
---
©2009-2015 Unified Microsystems. All Rights Reserved.
Web Design and Hosting by QTH.com