The ATS-1 Terminal Shield is the quick and easy way to add a user interface to your Arduino™ project! The ATS-1 Terminal Shield provides a 16x2 alphanumeric LCD display, 6 user navigation buttons plus a programmable LED and buzzer. Better yet, the ATS-1 only uses 2 of the Arduino's digital I/O lines leaving the rest for your application!

The ATS-1 shield works with the Arduino Uno, Duemilanove and other compatible CPU modules. It communicates with the Arduino through the D0 and D1 serial lines. Send text to the display and control the LED and buzzer with the standard Serial.print() functions. User switch presses send the switch number to the Arduino. Use the Serial.read() function to capture them.

You can also wire jumper the ATS-1 to use other digital I/O lines and use one of the software serial libraries available on the Arduino site. Solder pads also let you wire the ATS-1 to your non-Arduino based microcontroller project.

Plug in an ATS-1 into your Arduino board and immediately start writing software for your next world changing project!


Specifications:
Size:
4.0" X 2.35"
Power:
ATS-1-YBL: 5V, 150ma typical (yellow backlight)
LCD:
16 character X 2 line transreflective (ATS-1-YBL version)
Switches:
6 user plus 1 Reset.
Reset switch resets both the ATS-1 and the Arduino board
I/O:
Serial, 4800 Baud, TTL (5V) signal levels
**
Arduino CPU not included. LCD display may vary slightly.
Documentation: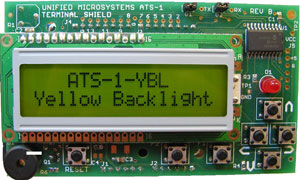 ATS-1-YBL (with backlight)
Shipped assembled and tested as shown.