Amateur Radio Products

Electronic Development Products



VK-64

Combination Voice Keyer
and Full Featured CW Memory Keyer


This is a legacy product and is no longer available.
It is still supported.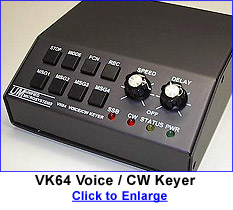 The VK-64 is a voice keyer and CW memory keyer in the same package!

You can operate the VK64 manually with the front panel controls or under program control through your PC or laptop's printer port.

The voice keyer section has four 15 second messages.

Recording is simple. Press the record button followed by a message number button and start talking. Press the stop button when you are finished. Messages are stored in non-volatile memory, remaining stored until recorded over with a new message.

The CW portion is an iambic memory keyer with four programable messages, each one capable of storing over 300 Morse characters. A front panel knob adjusts speed from 8-45 WPM. Selectable keyer configurations include:

Mode A or B keying
Adjustable weighting
Adjustable side tone frequency
Side tone ON/OFF
Right or left handed paddle
Tune function

The VK-64 also includes a built in LPT CW interface. Most contest logging programs support sending CW through the printer port. Computer keying works in parallel with the internal CW keyer.

Message 1 for both CW and voice modes can be set up for auto repeat. The delay time can be adjusted from approximately 1/2 to 12 seconds with a front panel control.

The VK-64 is compatible with the major contest logging programs, including N1MM Logger, NA, WriteLog, TRLog , CT and LogEQF.

Installing the VK-64 is easy! Unplug the microphone and plug the VK-64's transmitter audio/PTT cable into your radio. Plug the microphone into the VK-64's microphone input cable. The VK-64 automatically switches the microphone for recording and play back. The rest of the time your microphone audio and PTT signals pass through the VK-64 and connect directly to the transmitter, even when the VK64 is powered off.

CW set up is as simple as plugging your paddle into the VK-64. CW out connects to the CW jack of your transceiver. Adding computer control only needs a standard 25 pin shielded computer cable between the laptop or PC and the VK-64.

Cables are not included, but can be easily made according to directions in the manual or purchased from Unified Microsystems.

A 12V wall transformer with US standard 2 prong plug is included with the VK-64. The VK-64-DX comes without a power supply for stations that use a different power connectors or otherwise want to supply their own 12VDC.


VK-64 Specifications

Size: 6.25" X 6.25" X 2.5"
Weight: 1.25 lb.
Power: 12V DC, 500 ma
Audio Messages:4 messages, 15 seconds each
CW Output keying: Solid state, for positive keyed rigs only
Software compatibility: N1MM Logger, CT, NA, TR-LOG



Rear Panel Connectors & Controls

Power: Center positive
Transmitter and Microphone Audio: DB9
Computer: DB25
CW Paddle: 1/8" Stereo Phono
CW Out: RCA Phono
Audio Level Adjust: Trim pot adjust

VK-64 Manual (PDF)


---
VK-64 Accessories



VKC-4/8 Audio Cable


The VKC-4/8 cables provide the connection between the VK-64 and your rig and microphones. The wires to these connectors come pre-stripped and tinned for quick and painless final assembly to match the pin out requirements for your particular equipment. Instructions included. Specify 4 (VKC-4) or 8 (VKC-8) pin microphone connectors. Email for pricing information on completely assembled and custom length cables.

Specifications:

All wires shielded to reduce RFI
Length: 36" - Transmitter section, 30" Microphone section.
VK-64 Cable Schematic (PDF)


The VKC-4 Audio Cable is $29.95. See below to order.



KC-4 & KC-8 CW Cable Sets


Includes cables to the paddle and transmitter. Paddle cable has connector to the VK-64 on one end and stripped and tinned wires on the other. Model KC-4 has the transmitter cable terminated with a 1/4" stereo phone plug. Model KC-8 is terminated with a 1/8" plug.

The KC-4 & KC-8 CW Cable Sets are $9.95. See below to order.
---
The VK-64 is a legacy product and is no longer available.
However, it is still supported.
---
Voice Keyer | CW Keyer | Sound Card Interface | Beacon | Band Decoder | Antenna Selector | USB Interfaces
LED Array Kits | Voltage Regulator Kits | Support | Contact | About Us | Home
---
©2009-2022 Unified Microsystems. All Rights Reserved.
Web Hosting by QTH.com