There never seems to be enough Input/Output (I/O) lines on microcontroller projects. The IOX-16 will add 16 digital lines on a single shield. Stack up to 8 boards for a total of 128 I/O lines for really large projects.

Each I/O line can be individually configured as an input or output. Signal access is provided through a pair of 10 pin right angle headers.

The IOX-16 is designed to be flexible to easily match your project's unique needs. Jumpers allow selection of voltage sources, board address and other configuration settings. The new I/O lines and Arduino signals are assessable through solder pads for connection to your on board circuitry on the prototype area.

The IOX-16 is compatible with the Duemilanove, Uno and similar Arduino and Arduino clones. The R3 version is compatible with the Uno R3 and newer Arduino processors using the new 10 pin header.

When your project runs out of I/O, the IOX-16 will put it back on track.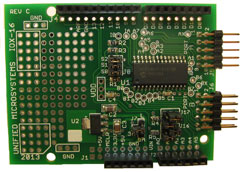 Shipped assembled and tested as shown.