Coming Soon!
BevFlex-4X Receive Antenna System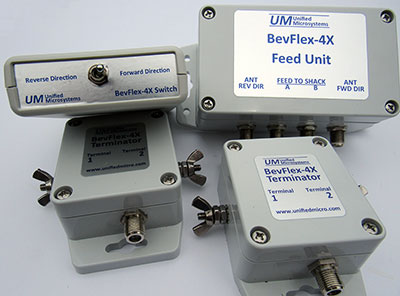 The BevFlex-4X is an improved and lower price version of the unique W8GNM BevFlex-4 system. You can use it as the basis of the best low band, low noise antenna system for your station and property. Build a Beverage, Beverage on Ground (BOG), EWE, Flag, or VE3DO loop type antenna. These antenna designs receive in one direction, but with the BevFlex-4X design, you can instantly switch to the reverse direction.
The BevFlex-4X Beverage/BOG configurations use inexpensive RG-6 coax as the antenna element. The unique design allows feeding it at any point on the antenna, not just the ends. Tap off at the point closest to the shack.
The system has four components. Two terminator boxes terminate the antenna at the proper impedance and feed the signal from their directions to the Feed Unit. The Feed Unit splits the signals from the two directions and directs them to the Switch Unit in the shack. The Switch Unit lets you select what direction you receive.
The Terminator and Feed Units use NEMA rated cases with gasket seals. The electronics in the outdoor units have a conformal protective coating for additional moisture protection. The Terminators use stainless steel hardware for the wire terminal connections. Gas discharge tubes in the Terminators provide added protection from nearby lightning strikes. The Switch Unit has voltage and current limiters to help protect the receiver front end.
The BevFlex-4X gives you the flexibility to make and experiment with different low band receive antennas to fit your site and operating styles. Install two systems at right angles and cover all four direction quadrants.

BevFlex-4X Specifications
Case Sizes:

Switch Unit: 3" X 5.25" X 1"
Feed Unit: 5.75" X 2.5" X 2.25"
Terminal Units: 2.25" X 3.75" X 1.5"
Case sizes do not include extensions from connectors, terminals, or switch

Connections:

Coax: F type coaxial connector
Antenna and ground wire: Stainless steel screws, wing nut
Documentation:

- BevFlex-4X Info Sheet
The BevFlex-4X will be available in early fall 2019. Watch the Unified Microsystems main page for availability announcements.
---
Voice Keyer | CW Keyer | Sound Card Interface | Beacon | Band Decoder | Antenna Selector | USB Interfaces
LED Array Kits | Voltage Regulator Kits | View Cart | Support | Contact | About Us | Home
---
©2009-2019 Unified Microsystems. All Rights Reserved.
Web Design and Hosting by QTH.com