Are you tired of replacing the lamp in your rotor box? The ML-6 uses reliable LEDs to replace the hard to find lamp used to illuminate the meter in Hy-gain™ and CDE Ham-M type control boxes. Six white LEDs provide even illumination, and you can adjust the brightness to the perfect level for your shack.

The ML-6 is easy to install. Peel the backing paper off the Velcro™ tape and press the circuit board on the top of the meter. Then solder the two wires to the old lamp holder. Adjust the brightness and you are done!

The ML-6 is designed for rotor control boxes with a single bulb above the meter with a clear plastic top.


Specifications

Size: 4.1" X .5"
Voltage: 24VAC
Current: Approximately 50ma at full brightness
Documentation:

- User's Manual
Order your ML-6 Replacement Meter Lamps here:

ML-6 Before Installation
Shipped assembled and tested as shown.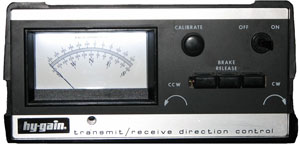 ML-6 Installed in Hy-Gain Control Box